CERT
Community Emergency Response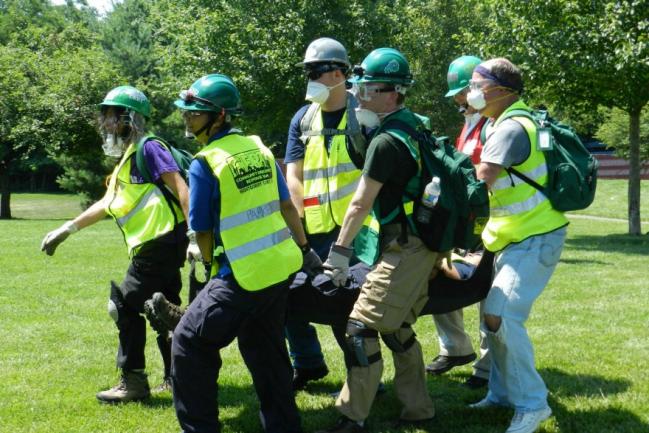 CERT teams are made up of ordinary citizens trained in basic disaster response who offer critical support to first responders by helping to stabilize an emergency situation, providing immediate assistance to victims, organizing spontaneous volunteers at a disaster site, and collecting vital information for rescue personnel.
CERT was originally developed by the Los Angeles Fire Department in 1985, and made nationally available by FEMA in 1993. The program is designed to educate people about disaster preparedness and potential hazards, and trains them in basic disaster response skills, such as fire safety, light search and rescue, team organization, and disaster medical operations. Using what they've learned in the classroom and during exercises, CERT members can assist others in their neighborhood or workplace following an event when professional responders are not immediately available to help. Today, 3534 communities and many universities around the country have established CERT programs, with over 200,000 active team members.
In recent years, CERT programs have begun to develop curriculum that addresses the unique challenges and issues faced by college campuses and their communities. This initiative is referred to as the Campus CERT (C-CERT) program. The standard CERT curriculum consists of 8 modules:
• Disaster Preparedness
• Fire Safety
• Medical Operations I & II
• Light Search and Rescue Operations
• CERT Organization/Incident Command Structure
• Disaster Psychology
• Terrorism and CERT
CERT Stories
Georgetown Hosts Regional "CERT CON 2012" Event
June 2012 – Over 100 volunteers from around the Washington Metropolitan Area participated in the second annual "CERT CON" held on Georgetown University's main campus June 9th & 10th. "CERT CON" is a conference and field training exercise organized by Georgetown University and Montgomery County, Maryland that is designed to give regional Community Emergency Response Team (CERT) members the opportunity to advance their education and training in the field of disaster response. It offered participants the rare opportunity to practice these skills in a simulated disaster environment with members of other CERT teams from across the National Capital Region (NCR). This year's theme was "CERT: Anytime, Anywhere." For more information on CERT CON 2012, visit our blog.
Georgetown C-CERT Recognized by FEMA

June 2011 – The Federal Emergency Management Agency (FEMA) recognized Georgetown University's C-CERT program in the summer national CERT newsletter, available here. In the newsletter, the national CERT office called Georgetown's program a "rousing success" and noted that the program has "helped make Georgetown University and its neighbors stronger and more resilient communities. For more information on the CERT program at Georgetown, please email gucert@georgetown.edu.
Inaugural Georgetown University CERT Training Session Completed
September 18, 2010 – This September, the first training session of Georgetown University's Campus Community Emergency Response Team (CERT) program was completed. The goal of the program is to create a group of trained volunteers who can safely support emergency services workers. In the Fall, the training made the University News and participants described the training as useful and inseparable from the spirit of service at Georgetown. CERT is a great way to serve and become more involved in the community, acquire basic life-saving skills, and learn how to prepare for disasters great and small.
Announcing the Georgetown University CERT Program
July 1, 2010 – This year will mark the inception of Georgetown University's Campus Community Emergency Response Team (CERT) program. . In 2009, Georgetown University was awarded an Emergency Management for Higher Education Grant from the U.S. Department of Education. Among the provisions of the grant is a directive to provide C-CERT training to at least 100 Georgetown students, faculty, and staff members.
These sessions will be open to students, faculty, and staff members. The classes will run from 8:30AM – 5:00PM each day. Lunch will be provided. Upon completion of the course, each participant will receive a CERT backpack filled with an assortment of the disaster preparedness supplies they have been trained to use. All training and equipment are provided free of charge, courtesy of the District of Columbia CERT Program.
Georgetown is also leading the way in establishing CERT programs at other universities in the Washington metropolitan area, and will be providing training to representatives from several other institutions during the four scheduled sessions. Georgetown's CERT program will serve as a prototype for other campus CERT programs across the area, creating a basic template that other institutions can follow or modify as they wish. While most university CERT programs today work in isolation on individual campuses, Georgetown is working with other local universities to create a nationally unprecedented network of coordination, shared management, and mutual assistance. The goal is to create a Washington Metropolitan Area C-CERT system that will be a model for other major cities with multiple universities.
Each session will be taught by local fire fighters, paramedics, and police officers. The training will be administered by the District of Columbia CERT program, and consists of nine modules.